Celeste van der Walt, the energy behind Laugh PE, is a dynamic and energetic lady, ready to take on any challenge that comes her way.

Celeste qualified as a Laughter Therapist/ Laughter Yoga Leader under the teaching of Janine Grobler from Laugh SA, in January 2011.

Since then Celeste has been holding laughter sessions at various organizations and groups i.e. retirement villages, Reach for Recovery (CANSA), schools, private groups and Heart Foundation and has clearly seen the benefits of this practice.

In April 2012 she qualified as a Laughter Yoga Teacher, under the teaching of Dr Madan Kataria, in India and now trains Laughter Therapists and Laughter Leaders, locally.

Celeste's love for people and passion for a holistic approach to health and wellbeing has however always been the key in guiding her career direction.

She completed a B.A degree in Education and Social Sciences at the University of Pretoria and later furthered her studies through UNISA and UPE. After gaining experience as an educator, a councillor etc., Celeste moved into the business arena during the early 80'

She still holds the position of Regional Director for a National Corporate where she has developed the regional team to consistently perform amongst the top 10 achievers for several years.

She however remained actively involved in lifestyle and wellness initiatives and as such was instrumental in starting a National Allergy Society in 1980; initiated the formation of the Baby Gym Institute of SA and Qualified as an Advanced Baby Gym Instructor in 2005, with Dr Melodie de Jager. She also established a successful Lifestyle/Wellness Centre in Port Elizabeth in 2002, that hosted a diverse range of holistic practitioners.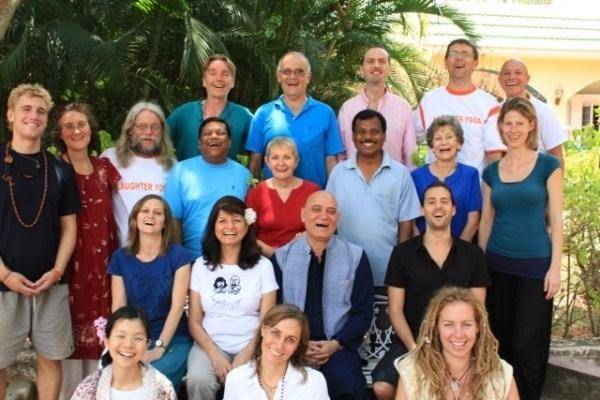 Medical Benefits of Laughter
Benefits of Laughter Exercises
Seriously benefits our health:
Reduces stress levels and keeps them down.
Boosts our immune syste.
Improves our digestive system.
Improves blood circulation.
Oxygenates our major organs and brain.
Speeds up healing.
Boosts levels of cancer fighting cells.
Improves our Mental and Intellectual Capabilities
Learning.
Communication.
Creativity.
Concentration.
Memory.
Allows us to operate at peak performance.
Benefits our Emotional System
Elevates our mood within minutes.
Causes body to release a cocktail of drugs, hormones and neuro-peptides, reducing stress and puts us in a positive state of mind.
We become more loving, caring, forgiving and tolerant..
In all: boosts our Emotional Intelligence.
Improves relationships.
Benefits our Belief system/ Value system
Regular laughter brings us back to living our core values and beliefs, increasing our feelings of self-worth.

In 20 minutes of laughter we get thousands of dollars of natural and healing organic pharmaceuticals with no bad side effects.

Laughter exercises teaches us to laugh unconditionally so that we can keep a positive mental attitude regardless of the circumstance.

Laughter is a great connector of people, building good caring and sharing relationships.
Booking Enquiry
Please complete this booking enquiry and we will confirm availability.
Quick Enquiry
Complete and submit
Contact details:
Tel: (041) 581-4916
Fax: (041) 581-7971
Email:
Using this site means you accept its
terms
| Copyright © 2022 Laugh Port Elizabeth, South Africa
| website by